Once upon a time I was in college and lived in a single dorm room. I had a shitty little TV in my room and it only picked up a few channels because reception was so bad. One of the only channels it picked up was the Food Network and I watched it. All. The. Time. I was obsessed with Iron Chef's secret ingredient, Alton Brown's science of cooking, who would be eliminated on Chopped, Giada's giant head, and what Barefoot Contessa going to make for Jeffrey this week. Mostly though I became obsessed with the idea of cooking in a perfect well stocked kitchen.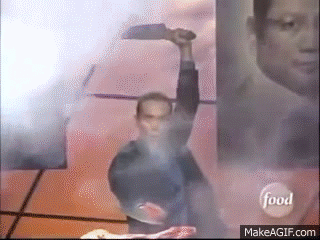 I was never much of a cook growing up. I could make grilled cheese, chicken Top Ramen, Bisquick pancakes and scrambled eggs. That was about it. Oh and cereal. I was very good at making cereal. But in college, having Food Network and no friends really changed my cooking life. People always joke about a college kid's skills in the kitchen being poor, but I came back from it ready to do some master chef cooking. I was gonna Iron Chef the shit out of my kitchen. I really began to experience the joy of cooking during this time. I still love to cook and I make dinner at the house almost every night. I really truly enjoy meal prep and baking and trying new recipes. What I've learned to do now though, is enjoy all of this with a lot less THINGS than I used to.
For instance, the moment I got back from college I bought everything I thought I'd need to become a master chef. A mandolin slicer, Kitchen Aid mixer, several different sized bowls, all the utensils, a crème brûlée torch, a pastry crimper, a hand pressed juicer in different sizes for limes, lemons and oranges, muffin tins in three sizes, SEVEN cake pans, four different kinds of graters, a spiraler, etc. etc. etc. Essentially, Williams Sonoma was my bitch.
The point is I bought a lot of stuff, mostly on a credit card because I was making $10/hr working part time (I really need to do a post on my consumer debt btw, which was just all paid off last week!). And I wasn't even majoring in culinary arts or anything. I just HAD TO HAVE IT ALL. So I was surrounded by a ton of kitchen appliances and stuff I hardly ever used. I stayed surrounded by my horded items in my kitchen as I moved from place to place over the years. I never could find anything. I hardly ever used what I had. I slowly started donating the items that took up space a few years back. I knew if I didn't use it at least once every six months then I didn't need it in my life.
I donated a lot of kitchen items over the past year or two, but I knew during this recent move that I needed to do better. This became clear when I thought I had packed the entire kitchen and then found out there was an entire kitchen cupboard full of stuff I had NO IDEA WAS EVEN THERE. So began the kitchen purge, definitely the most extensive yet.
13 items total above, plus I got rid of about 15 cups and mugs we don't ever use. I'm going to count all of those as one though so 14 items total for the kitchen purge. I posted these in my local Buy Nothing group and two families came and picked the items up. Both were thrilled for the items and I was able to avoid giving a donation shop a surplus of my junk.
We only have six water glasses now, we had about 25 for two people who never have anyone over for dinner or anything. Coffee and tea mugs have always been my weakness so we went from about 30 to 14. We could do with less, but I love my nerdy mugs and they all spark joy and they all get used. I'd like to get down to seven, but I parted with a lot this week so I'm feeling good about it. And I'm not buying ANY MORE.
Then I had to tackle the spice cupboard. I realized I had multiples of the same spices so I consolidated and threw out the empty ones. I looked at my spices and asked myself when I last used a certain spice. I tossed any that hadn't been used in six months. My favorite tip for spices is to go to your favorite store when you have a specific recipe in mind that requires a unique spice and USE THE BULK BINS. A prepacked spice can cost anywhere from $3-$15! Take the tablespoon of curry powder you need and use the bulk bins for a total of $0.27. You'll save time, space and money.
Buy Nothing give to local people of spices and things I had too much of and never used

Two rows of spices now instead of five
I still have some work to do on my kitchen. I know I have large items that take up too much space that I never use. For instance, I have a pie crust cover that is large and round and fits absolutely nowhere. It's great to keep your crust from burning in the oven…the one day a year I make pie. Foil also works just as good though. I just can't part with it though. Foil falls off and isn't as user friendly. So my challenge to myself is to make more pie. If I have something I know is useful and I like to use it but I hardly ever do, then I need to use it more or lose it.
That's my takeaway from this kitchen purge. I hope it inspires someone to take a look at what they have and size down a bit. Do you have twenty wine glasses, but have never had a dinner party in your life and aren't planning to? Maybe you just need four.
Remember cooking can be fun, and a kitchen can be a really zen place to relax and nourish your body and soul. Don't make it a hectic place filled with a bunch of stuff that only serves to stress you out.
Items purged: 24/30