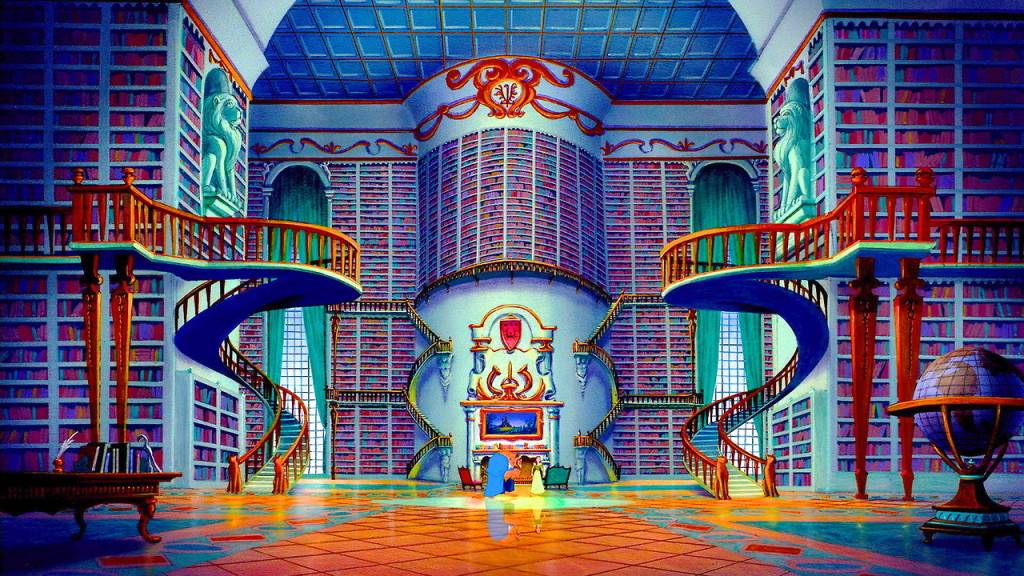 In June 2011 I finished grad school and my Mom bought me a Nook as a graduation present. I was slightly appalled. E-Readers? Those were for people who don't love books! And I knew I loved books. I spent, and do still spend, almost all my free time reading books. It was also important to me at the time that other people knew I loved books. I worked in a book store and I spent a lot of my free time there browsing books to buy at the end of my shift. And I bought a lot. So many that I had at least over a hundred books at one point that I hadn't even started reading yet. I had a vision of collecting these books and one day getting that Beauty and the Beast library I'd wanted since I was five. I'm slightly terrified of this reality now. I love libraries, but I don't think it'd be very nice to own a gigantic one that only I got to use. I'd feel pretty neglectful of them since I doubt I'd ever read them all or even read them more than once. I suppose a part of me still likes the idea of this, but in reality books are meant to be read and if you aren't reading them then give them away to someone who will or get a dang e-reader. Since the Nook I've upgrade to the Kindle Oasis and it's amazing. Stay tuned at the end to hear about how much I love my e-reader and how I haven't bought a single book in eight months but have still managed to read a ton of new books for free!
When I moved out of my Dad's house finally I remember looking guiltily at my now husband because I had about 14 boxes of books that he had to move down my stairs and then up his own when we finally moved in together. "Hey, you wanted to date a book lover, this is what you get. AND LOOK HOW MUCH I LOVE BOOKS. LOOK AT ALL THESE BOOKS I'VE READ. And look at all these others I've accumulated since I started buying and hoarding books that I HAVEN'T READ. Don't worry – I'll read them someday I'm sure. After I buy and read some more first before I get to the ones I bought four years ago and still haven't read. Some I'll reread, but most I'll never read again. But don't they LOOK nice. And now people know we love books. This proves it!" Oh me from the past. Slow down crazy.
I think what's really helped with being able to downsize my books so much is having had to move six times in the last ten years. Every time I've moved since that first time I've downsized books. Those fourteen boxes went down to twelve, then eight, and for this last move four. Even four felt like a lot though. I mean, I had MULTIPLES of Harry Potter books. I don't need three copies of Half Blood Prince. I went down to two copies per Harry Potter book a few months back and STILL didn't realize why I was holding onto multiples so desperately. So I let those go. Then I did the Marie Kondo thing and I held each book for a bit and waited until they sparked joy or not.
I ended up getting rid of 22 books all altogether – more than I thought I would. I finally parted with a few YA books I didn't really read anymore, and a few books I kept just because I loved the covers. Old me would have been horrified. I also finally let go of my college poetry books. I never read them. I just thought they were cool to look at.
Here is the old bookshelf (three total, really) with built ins on the left below, compared to the new much smaller one on the right that fits all of our movies and books (thanks Ikea!).

THAT'S ALL OF THEM. That's everything. It still feels like a lot to me. That wicker basket down below has all of our video games too. I'd love to downsize even more, but for now the goal was to downsize enough to get everything to fit into this smaller shelf. We've also paired down our DVDs and Blu-rays to only the ones we watch at least once a year. Starting this weekend actually I'm going to flip them backwards and then if I watch them in the next year I can flip them facing out again. This time next year if I have any still facing the wrong way they get donated. We don't have a lot which is nice, but still, they take up so much room and I'm much more of a reader than a movie watcher. Also, the internet has everything now so if I really want to watch something I can just rent it for the day for around $3.
The next step was photos. I only have one photo album, which is great and it's not even completely full. It's also got a real stupid old picture of me in front. It was a gift. Anyway, I have some old photos in here and I'm working on scanning them in through a phone app into my Google Photos drive. There is no point in keeping physical photos when everything can be kept digitally now. I've also never had anyone over and literally had them sit down and flip through a photo album. I'll probably end up keeping 15-20 total in the end. I'm thinking a few that my parents or grandparents wrote on the back of, or ones that I'd like to put on the fridge or cycle through framing. Photos weren't a huge problem before and since I only have this one album I'm not stressed about it. I would still like to make sure all my physical copies are backed up online in a private album though.
Downsizing papers was a hard one. I used to have this giant file cabinet I got when I turned 18 so that I could do what I thought you were supposed to: start saving and hoarding every adult document ever. I finally went through this massive cabinet with several different folders and files last year. I went from seven folders to three. The seven folders were filled with documents for old cars I had, but didn't even own anymore, and they also contained every single paycheck I ever received in my life. This was useful when I was going through the steps for Your Money or Your Life (highly recommend), but now they were just pieces of paper. Then for this week's challenge I paired it all down to one file. It no longer stays in the file cabinet and it fits neatly in my desk drawer. The cabinet will be donated this week. I kept anything that I need as an original that I couldn't just take a picture of. I kept a sealed transcript, my vaccinations, original birth certificate, etc. Things that were irreplaceable. The next step is to purchase a fire proof mini safe to keep them in along with the social security card and passport. The goal is to have that safe sit neatly in my desk drawer as well.
This week was a hard one for discarding. There's something that just hits you about looking at old photos and old books you remember buying and thinking you'd keep forever. I'm getting much better at letting go though.
So back to the BOOKS. How have I managed to read so many new titles in the last eight months and not have had bought a single book? The LIBRARY OF COURSE. I could kick myself for not signing up sooner. I've saved so much money! The best part is almost every library now has an account with Libby or Overdrive to get FREE E-BOOKS SENT DIRECTLY TO YOUR E-READER. You can even get Audio books for free! Cancel that Audible subscription and save some $$! I encourage you to check out your library and do this. I didn't even have to go in and talk to a human to get it done. I did it all online and ten minutes later I was reading a book that was on my wish list forever but I didn't quite want to spend the money yet to buy. It's been my favorite discovery of the year. Check. It. Out.
Next week I'll close out the minimalist home with some really good insight on some of the minimalist books I've been reading.
Items 46/30 – AHEAD OF SCHEDULE!